This Baby Water Mat is perfect for sensory stimulation, motor and social skills, enhancing hand-eye coordination and so much more ! 👶🏻
✔️ 100% Leak Proof
✔️ 100% Money Back Guarantee
✔️ FREE and FAST shipping on all orders
✔️ Secured and Protected Packaging
This Baby Play Water Mat is great for sensory stimulation, motor and social skills, cognitive abilities, strengthening of the bones and muscle, preventing a flat head, enhancing hand-eye coordination.
This baby water mat  is the perfect tummy time activity with water and attractive sea creature friends to grab a babies' attention.
With this Baby Play Water Mat young ones can experience water fun without getting wet.
Rain or shine, youngsters can have fun in the sun with this brightly coloured inflatable play mat that has a wonderful underwater seascape.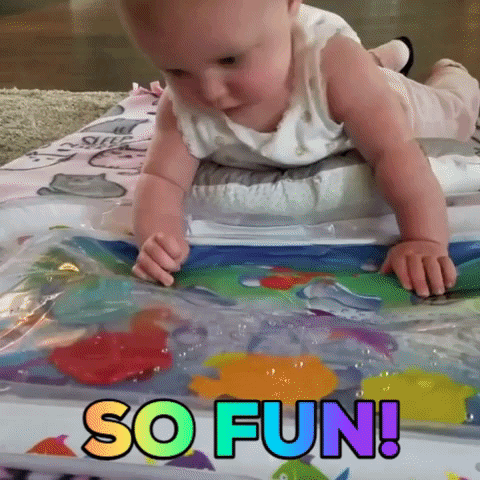 Benefits of this Baby Water Mat 
Supreme Quality and 100% Leak Proof: Our baby water mats are made of durable 100% BPA-free & non-toxic heavy duty PVC materials. Each of our play mats have been strictly tested for NO LEAK and durability. No need to worry about any messy accident.
Best tummy time toy: Enjoy the tummy  time activity without getting wet! Your  baby would be fascinated by the bright sea world graph and cute floating toys in the water. Parents can also have a fun time  watching the baby laugh and play!
Promotes Baby Development : This baby play mat helps strengthen the baby's leg and arm muscles to prepare to crawl. Aside from preventing a flat head, this sensory baby mat can also delight brain development and enhancing hand-eye coordination.
Easy to use & pack: Set up the baby water mat by simply inflating the outer ring and filling the interior part with water! After using it, you can just empty the mat, fold it or roll it up, and pack it into your purse or suitcase! It would also be a great gift for a baby shower!
A CINCH TO SET UP: Simply fill the outer ring with air and the inner mat with your desired level of tap water, set it on the floor and let the fun begin! It folds easily when empty into your purse or toy bag to bring along anywhere you go.
PRODUCT SPECIFICATIONS:
Material: 0.3 Food Grade 16P Environmental PVC
Size: 27″ x 21″ x 2.36″
Weight: 0.71 lb
Age Range: 3 months and up
Package size: 5.9 x 5.5 x 1.9 inches
Package: 1 x Water Play Mat